Evanston Summit offers it's residents (and their guests) an expansive dining menu. Our daily menu is updated everyday, and the our Comfort a La Carte provides an array of choice. The two menus below is a sample of what you can expect in our dining room at any given day.
Meet our Chef, Chris Clark!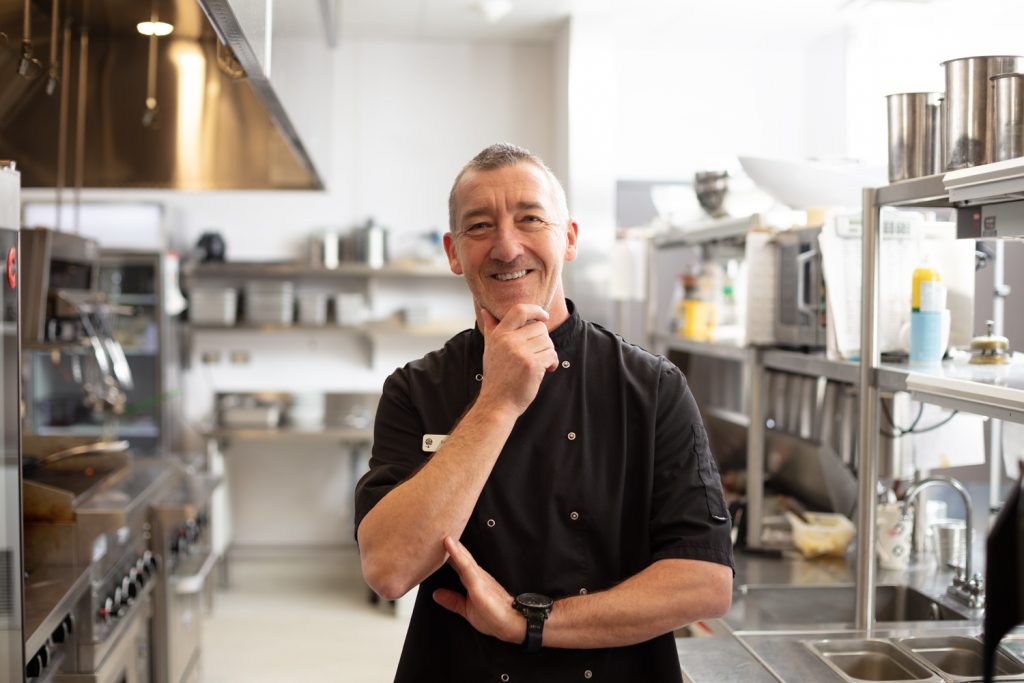 Chris Clark knows that sometimes you want a food adventure and sometimes you just want a burger. As the in-house Executive Chef at Evanston Summit, Chris ensures that the menu addresses the needs and flavours of many palettes.
"Some people have medical conditions that may impact their food choices and our diets can often change over the years," says Chris. "The fact is your flavour profiles that you have as a senior may not be what you enjoyed in your youth."
From pre-COVID kitchen tours to witnessing a meal-in-the-making, Chris enjoys discussing the ABCs of what happens in the kitchen once an order is placed. He is often out on the dining room floor asking Evanston Summit residents for their comments or likes and dislikes so he can continue to evolve the menu with his culinary team.
"I've been in the culinary business for more than 34 years and the rewards of working at Evanston Summit are nothing short of overwhelming," he says. "I believe it is important for the residents' wellbeing to have input on their meals and food choices and I have found the best approach is dealing direct and personal with every person to ensure we're providing a good variety of choices."
Chris oversees a small but dedicated culinary crew.
"I feel gratitude to be on his team and in the environment that we've been able to create and build together," says Amanda McCue, Dining Services Coordinator. "Chris is careful and honest about the food we serve and how it's made. Our produce fridge is full of whole produce, soups are made from scratch and our fresh cut fruits are actually cut on-site."
Evanston Summit features restaurant-style table service with open seating so residents can break bread with various fellow residents. There's a blackboard with featured daily specials, plus a variety of entrees, monthly brunch, continental breakfast and an a la carte menu. Plus, a half dozen special occasion dinners scattered to a whole new level.
With 34 years' experience as a chef, including having received Red Seal-equivalent culinary training in the U.K., he is knowledgeable in everything from basic to Micheline star quality.
Chris' laugh is robust and his English accent is still evident. He hails from the County of Durham, approximately an hour from Scotland on the east coast of England. The kitchen apron strings have already extended to his 18-year-old daughter, Jess, who is a server in the dining room. It brings it all home to Chris who started his own culinary experience at the age of 18 under the tutelage of a talented chef.
Join us for lunch and a tour!